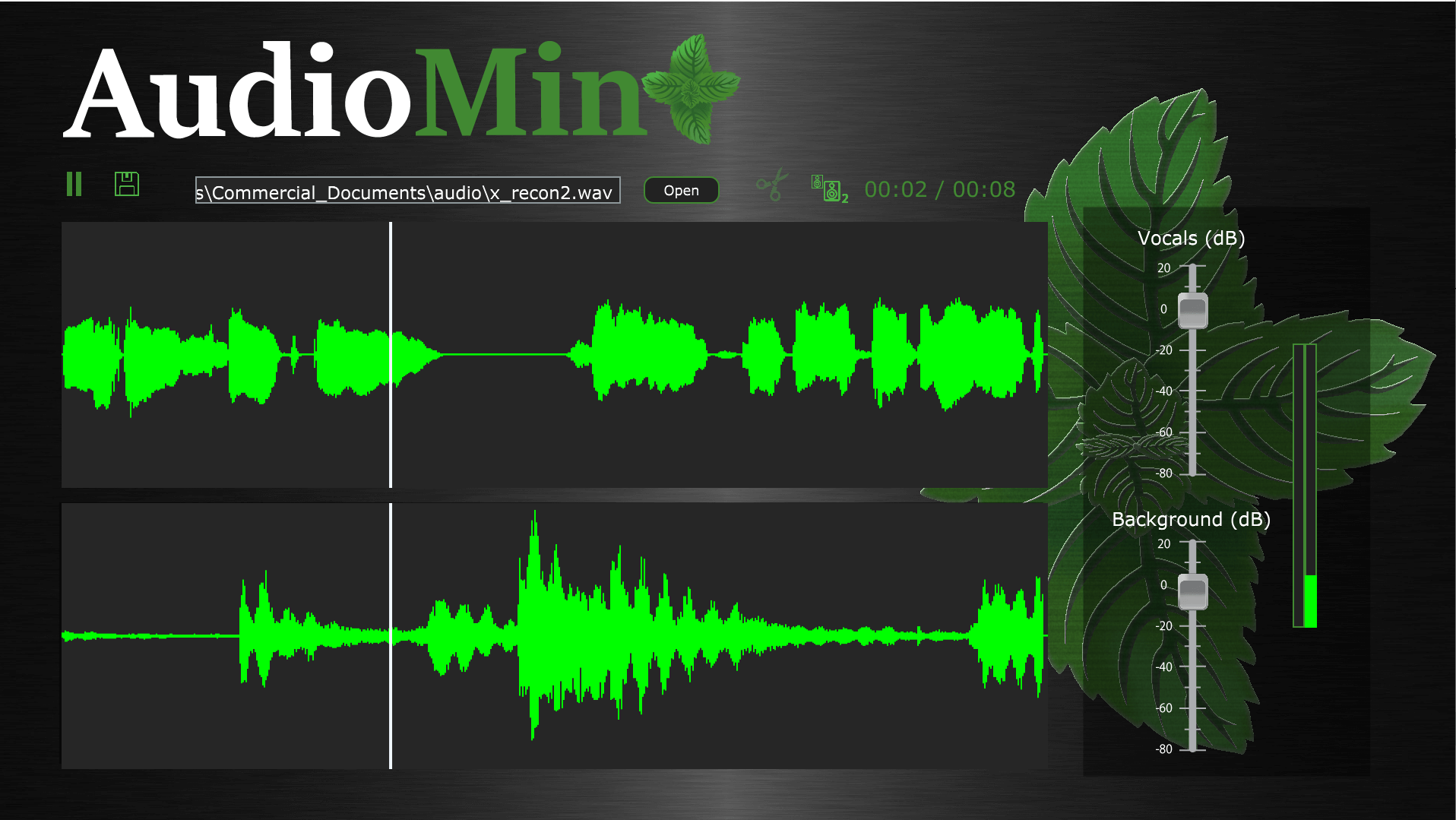 Introducing AudioMint
On March 10, 2021, Zerebrix released AudioMint, a breakthrough AI vocal remover. This software can isolate and remove vocals from any soundtrack without missing sound or gaps. The resulting audio sounds more natural than other AI vocal isolators on the market.
Voice separation has been long sought-after in the music industry. In the past, machine learning was used to train a neural network to separate a soundtrack into its component parts. The drawback of this audio analysis method is that the software relies on information that is presented to the neural network to estimate what the isolated audio should sound like. If there are sounds from sources in overlapping frequencies, they cancel each other out in a process called phase interference, resulting in lost information. The resulting audio will have missing gaps or sound off. In other words, it is impossible for these older methods to completely and convincingly isolate audio sources. Most open-source software, such as Spleeter, uses this method of minimizing differences.
AudioMint's unique AI vocal isolation software eliminates gaps in audio and produces results that are unrivaled in quality. Unlike previous editing software, our AI vocal remover generates high-quality audio that resembles an original, unprocessed recording. Below are some samples of its audio extraction capabilities compared to the open-source vocal isolator, Spleeter.
AudioMint Samples
Sample 1 (Every Time The Son Leaves by Telepathic Teddy Bear)
| | |
| --- | --- |
| Original Mix: | |
| Spleeter: | |
| AudioMint: | |
As you can hear, though both AudioMint and Spleeter were able to isolate the vocals, the Spleeter version sounds distorted. The lost information caused by phase interference results in the whooshing sound in Spleeter's version. On the other hand, AudioMint's AI vocal remover produced a more accurate isolation that sounds like the original source.
Sample 2 (My Little Kingdom by Golden Duck Orchestra)
| | |
| --- | --- |
| Original Mix: | |
| Spleeter: | |
| AudioMint: | |
The vocals in the Spleeter version of this audio are very distorted as a result of the background guitar, making its audio unusable. The lack of phase information also leads to a hissing sound, like what you would hear in a webcam call. Conversely, AudioMint's version is much more faithful to the original and clean of any artifacts.
About AudioMint
Due to a phenomenon called phase interference, original audio sources are often damaged during mixing. In digital audio, when two waves in different frequencies interact, they couple and cause a loss of information. AudioMint's AI vocal remover overcomes this issue by identifying the lost information and generating its own version of the original audio. In most cases, the resulting isolated source will have the timbre of an original, unprocessed recording – even if it is not exactly the same as the original.
To try AudioMint for free, click here and start your trial!
On March 10, 2021, Zerebrix released AudioMint, a breakthrough AI vocal remover. This software can isolate and remove vocals from any soundtrack without missing sound or gaps. The resulting audio sounds more natural than other AI vocal isolators on the market. Voice separation has been long sought-after in the music industry. In the past, machine…